The Orientation Meeting is scheduled for October 22nd in the San Marino High School Auditorium (see calendar for map and time).
In preparation for this meeting, please take note of the following:
All Scouts: Be sure to have payment for dues (

$150)

. Boy Scouts: If paying by check, make payable to "SGVC BSA".
Go to the Forms page. Fill-out the required forms (Release/Waiver form and Consent form) and bring them to the Orientation Meeting.
Go the Merchandise page. Submit an online order for any desired merchandise and bring the necessary payment to the Orientation Meeting.
Welcome
The Tournament of Roses Troop makes its appearance in the Tournament of Roses Parade every year.
Each year a new Troop is formed by selected Eagle Scouts from the San Gabriel Valley Council and selected Gold Awardees (Girl Scouts) from the Girl Scouts of Greater Los Angeles .
Together, these Scouts join to form the "Tournament Troop" and are entrusted with leading the opening Flag Ceremony and carrying the banners announcing the award-winning float entries in the annual parade.
2015 Rose Parade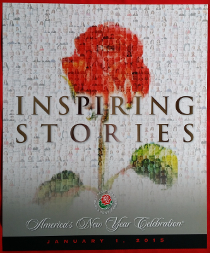 The 2015 (126th annual) Rose Parade, themed "Inspiring Stories", will take place on Thursday, January 1, 2015 at 8:00am. More information, as well as "Frequently Asked Questions", can be found on the Rose Parade web page .