Merchandise Menu
Welcome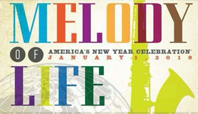 The Tournament of Roses Troop makes its appearance in the Tournament of Roses Parade every year.
Each year a new Troop is formed by selected Eagle Scouts from the Greater Los Angeles Area Council and selected Gold Awardees (Girl Scouts) from the Girl Scouts of Greater Los Angeles .
Together, these Scouts join to form the "Tournament Troop" and are entrusted with leading the opening Flag Ceremony and carrying the banners announcing the award-winning float entries in the annual parade.
2017Rose Parade
The 2017 (128th annual) Rose Parade, themed "Echoes of Success", will take place on Monday, January 2, 2017 at 8:00am. More information, as well as "Frequently Asked Questions", can be found on the Rose Parade web page .