Join us for the Work Party on 12/27 (9:00a ~ 11:00a) at the Tournament House in Pasadena. We'll be roping off the entire perimeter of the Tournament House.
Come dressed for work and know how to tie an inline clove hitch. Reference this tutorial for help.
Welcome
The Tournament of Roses Troop makes its appearance in the Tournament of Roses Parade every year.
Each year a new Troop is formed by selected Eagle Scouts from the San Gabriel Valley Council and selected Gold Awardees (Girl Scouts) from the Girl Scouts of Greater Los Angeles .
Together, these Scouts join to form the "Tournament Troop" and are entrusted with leading the opening Flag Ceremony and carrying the banners announcing the award-winning float entries in the annual parade.
2015 Rose Parade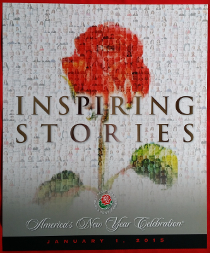 The 2015 (126th annual) Rose Parade, themed "Inspiring Stories", will take place on Thursday, January 1, 2015 at 8:00am. More information, as well as "Frequently Asked Questions", can be found on the Rose Parade web page .